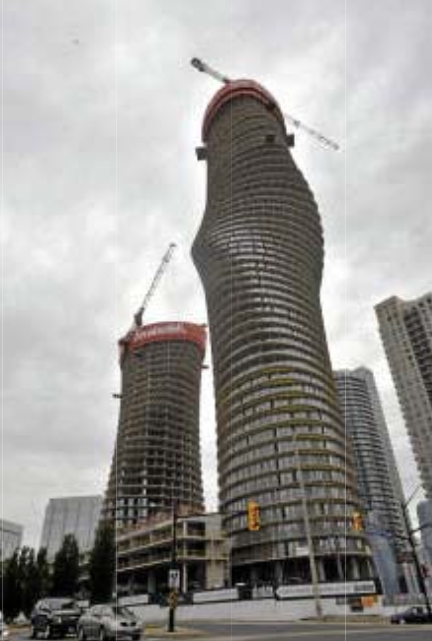 Last Friday's topping-off party for Marilyn Monroe – as everyone calls Beijing architect Yansong Ma's curvaceous 56-storey Absolute condominium tower in Mississauga – was a celebration of the many people whose energies and talents came together to realize this unusual project.
But the event also marked the completion of the Toronto area's first residential tall building in a thoroughly 21st century style. Marilyn, as built, is more portly and less daring than Mr. Ma's original design, but she's still a bit sassy, sexy and irreverent toward the formal pieties of cereal-box skyscraper modernism. She talks back to Toronto developers who complain that they can't build and sell anything except the same boring stuff we've been seeing since the Second World War. She has also proven to be wildly popular with condo consumers, who snapped up her suites as soon as they hit the local real estate market. (Construction of a second Marilyn tower is now under way.)
Mr. Ma won out over 91 competitors from 70 countries in a 2006 juried contest staged by Fern brook
Homes and the Cityzen Group, co-developers of the site at the important Mississauga intersection of Burnhamthorpe Road and Hurontario Street. Fern brook and Cityzen wanted a scheme that promised to pack a strong architectural wallop in the largely low-rise suburban city immediately west of Toronto and, as it was originally proposed, they got one.
But after the flashbulb hoopla of the competition passed – Mr. Ma's capture of the prize garnered international press attention – the developers had to face the task of pulling the designer's sinuous, sensuous idea down from the clouds and figuring out a practical, affordable way to raise it, or some semblance of it, from the Mississauga mud.
To get that job done, they turned to Toronto architect Atilla Burka and structural engineer Sigmund Soudack. Last week, I talked with Mr. Soudack and his associate, architect Yury Gelman, in their North York office.
"Marilyn really got our juices moving," Mr. Soudack said. "It required extraordinary effort from a creative, structural aspect. We had to do a lot of pioneering. I've been designing for 42 years, but I had never done [a tall building] like this. There was nothing in our history we could fall back on. What's unique about this project is that every floor is different. Each floor is basically an ellipse that keeps moving." As Marilyn spirals from the ground, the elliptical floor-plates rotate 209 degrees, bottom to top, to generate the pneumatic profile of the building.
Because every floor of Marilyn is different, Mr. Soudack explained, the walls and columns of each had to be designed separately to bear up under the forces – what architects and engineers call "loads" – exerted on the building by nature. There is "dead load," the immense weight of the concrete and steel of the structural fabric itself. There is wind load, which is tested on models in wind tunnels, and the load of the earth tremors that occasionally rattle Toronto-area teacups. Put all the factors together, and you arrive at the "load combinations" that every supporting element must sustain. Making Marilyn stand up and assume its proper shape involved calculating more than 200 of these load combinations. Designing an ordinary tall building entails the calibration of only 10 or 15 of them.
"If the building had been concentric from top to bottom, with columns sitting on top of each other – that's normally the way we design buildings – it would have been simple," Mr. Soudack said. "But in this case all the loads, the centre of gravity of each column, is constantly shifting."
Understanding the extraordinarily complex forces at work in a tall building could conceivably be accomplished – and was accomplished, early on in the career of skyscrapers – with nothing more complicated than a slide rule, pencils and paper. But the jobs of architects and engineers have recently been made been easier and more economical by ever-greater advances in computer technology.
"Software today is very sophisticated," Mr. Gelman said. "It can account for different phenomena, different behaviours of the structure. [To design Marilyn,] we had to learn new aspects of the software we had, and we had to master new software. When we designed some of the columns, we used software that accounts for the non-linear behaviour of materials. Because of the shape of the walls, because the column is curved, the building received additional forces [that] create tensions throughout the structure. All this was accounted for during the analysis and design of the building."
So much for the craft of engineering. The art of it, for Mr. Soudack, consists in never losing sight of the ultimate goal: fashioning a structure that is profitable for its investors and hospitable for homeowners. He estimates the cost of putting up Marilyn at about 20 per cent above that of a conventional tower.
"Marilyn is beautiful, it's fantastic," Mr. Soudack said. "Luckily, it was very well received by the public, because it's something unique. But ultimately, we don't know at this point how it will be received when people start moving in. That is the ultimate test: whether people are happy. That's the unknown."
Original Source:
https://www.theglobeandmail.com/real-estate/engineering-the-voluptuous/article4349106/