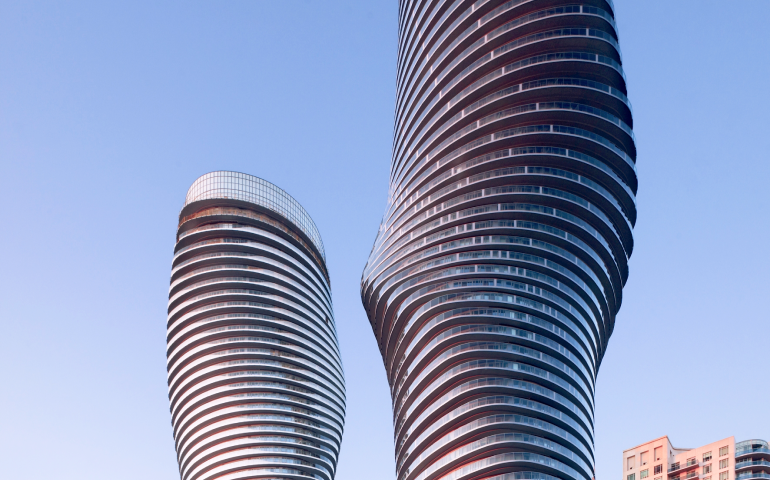 The Absolute World Tower Four is a 56-storey, 430-unit condominium tower in the centre of Mississauga. It is part of Fernbrook Homes / Cityzen's five-tower condominium development near Square One Shopping Centre. The final design was chosen after an international design competition that saw 92 submissions from world-renowned architects. Chinese-born architect Yansong Ma won with his singular twisted tower design of layered balconies.Dubbed the Marilyn Monroe building because of its shapely form, the Tower presented many challenges to structural engineering firm Sigmund Soudack & Associates Inc. While beautiful, "the shape created a number of challenges because of the complex design," says Yury Gelman, senior structural engineer at Sigmund Soudack & Associates, and the structural engineer of the Absolute World Tower Four.
Distinctive features of the building include the elliptical shaped slabs that are twisted around the central vertical axis, giving it the impression of an organic form. This unusual shape, rotating 209 degrees, presented two key structural challenges that had to be addressed: the thermal transfer at the facade between the open balconies and the interior of the building, and the severe facade articulation from top to bottom.
Sigmund Soudack used a scheme with hybrid concrete columns and concrete shear walls with a 200 mm one-way reinforced concrete slab. The shear walls lengthen and diminish in order to create the rotating shape. To partially address the thermal bridge from the open balcony concept and the interior, full-depth slab insulation in two-thirds of each slab perimeter was introduced.
As well, due to the building's complex shape, a wind tunnel test was conducted. Dynamic criteria were used in the design to check critical loads both from seismic and wind forces.